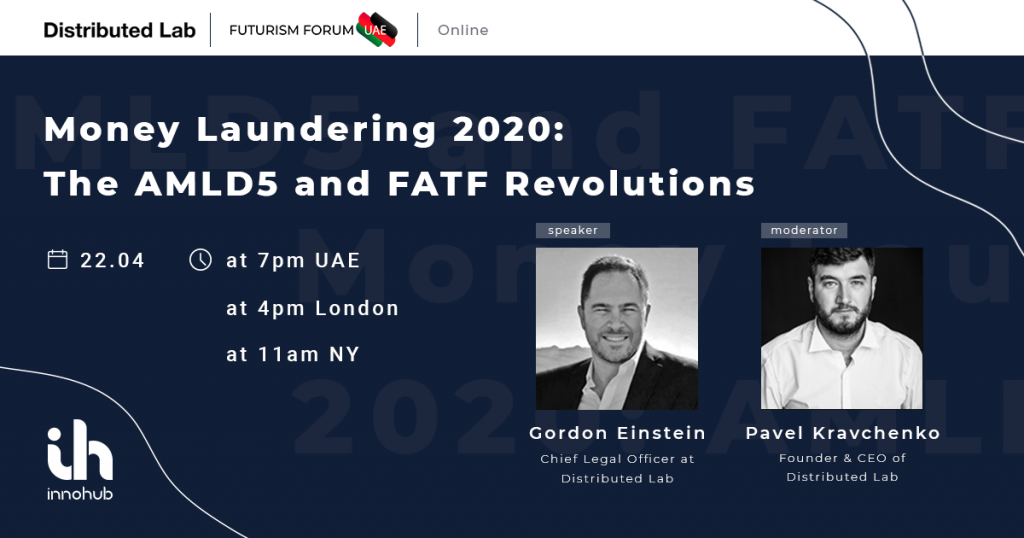 https://distributedlab.us16.list-manage.com/track/click?u=331507dc25d0be7409b372d7a&id=dae8d4f6a0&e=d7c7ae9c7e
Here's what you can learn

At that webinar you will get a strong understanding of all points you need to know about navigating the new AML5 and FAFT frameworks.
Discussing issues of today strong interest:
✔ The new AML/KYC/CFT requirements and recommendations no longer apply to just traditional financial institutions like banks.
✔ Financial transactions have come under ever-increasing government and institutional scrutiny.
✔ In 2020 the regulators are very aware of crypto and are extending their investigation and their enforcement activities to the crypto domain.
Please, feel free to discuss and ask questions after the expert's speech in the Zoom chat.
Join us!
The event will be interested for:
🔵 financial, government officials and business people who are involved into blockchain and fintech domains;
🔵 people who are engaged in the digitalization of financial processes and financial security ensuring;
🔵 people who are integrated blockchain technology into business processes.
 Now: 6 PM Kyiv – 7 PM UAE – 4 PM London – 11 PM NY
https://distributedlab.us16.list-manage.com/track/click?u=331507dc25d0be7409b372d7a&id=dae8d4f6a0&e=d7c7ae9c7e